IMPORTANT!
This years sailing we have a limited group space in inside rooms so act fast if you wish to secure that room type.
All Quoted prices are with taxes included so may appear higher then NCL's website at first glance.
Our group rates listed below are locked in and do not change but may or may not be the lowest available pricing at your time of booking. We Will consult with you on your best options taking in account the number of people, type of room your are looking for and location on the ship you wish to be. we will always endeavor to get you the best available pricing with the best promotions when you are ready to book.
All prices are per person and based on the number of people per room.
Deposits are required to secure your room this years deposit is $250/person due at time of booking unless a reduced deposit Promo becomes available.
Final payments are due by July 5th
Prices include all pre-determined taxes and fees! (promo surcharges are NOT included)
Pricing for Triple and Quad Rooms and other cabin types available upon request.

CALL 1-(734)-340-4553 FOR EXACT RATES AND PROMOTIONS
Inside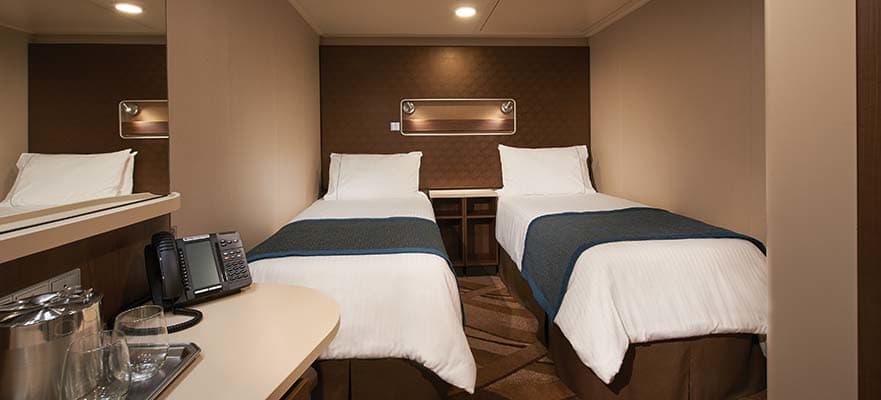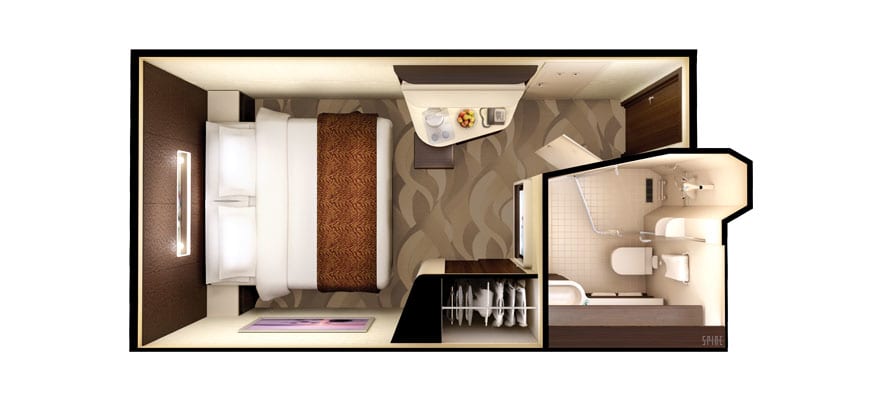 These Inside Staterooms are the most affordable way to cruise. There's room for up to four guests and they include two lower beds that convert into a queen-size bed and some rooms have additional beds (normally bunk bed style). Of course you'll have room service and many other amenities.
Cat IA $1074/person (Locked group rate)

Oceanview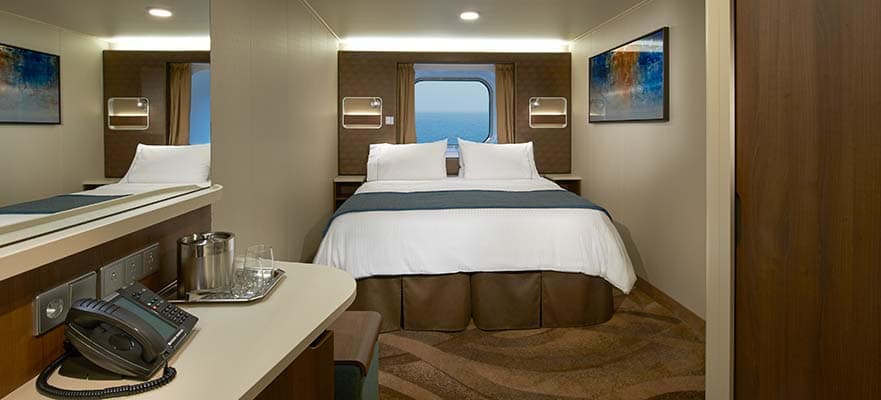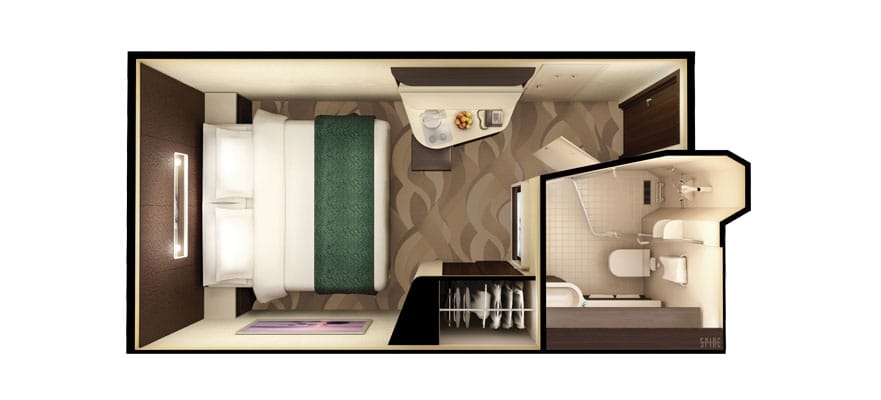 These Oceanview Staterooms sleep up to four guests and have either a picture window or porthole, with an obstructed view. Two lower beds that convert into a queen-size bed and additional bedding (normally bunk bed style) to sleep two more.
Cat OB $1534.00 (As Of 11/16/19 not locked subject to change)

Balcony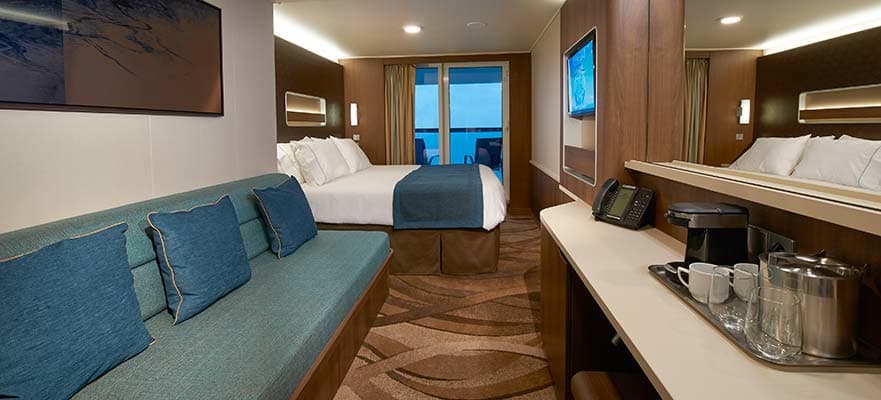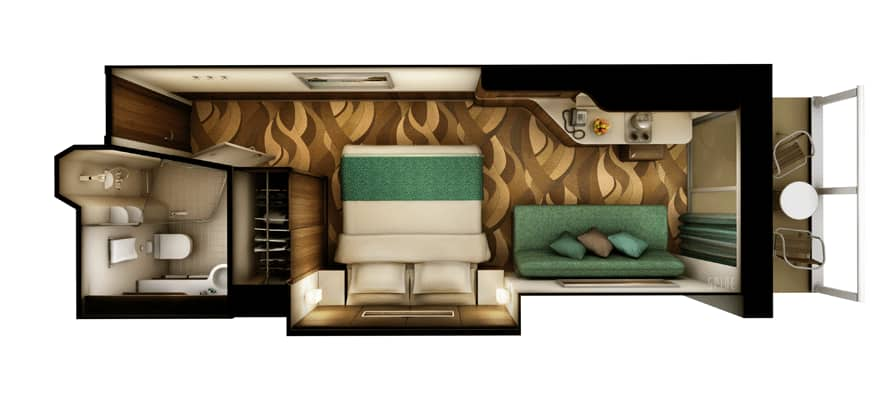 These staterooms sleep up to four guests and come with two lower beds that convert into a queen-size bed and a convertible sofa pulls out to sleep two more. These rooms also include a sitting area and floor-to-ceiling glass doors that open to a private balcony with a great view.
Cat. BA $1594.00 (Locked Group rate)

Mini-Suite
All the space you need in this larger balcony room. Relax in your sitting area. Indulge in your luxury bath. Or step out onto your private balcony and breathe in the fresh air while taking in amazing views.
Mini Suite Cat. MB $1794.00/person (As Of 11/16/19 not locked subject to change)

Concierge Rooms
These rooms are unique to the Joy and range from large "Family Insides" with 2 bedrooms and a Virtual Balcony (TV Screen with an outside video feed) sleeping 6 to a "Penthouse with Balcony" sleeping 4 below is the lowest price example please inquire for more information.
Concierge Cat. CF $2234.00/person (As Of 11/16/19 not locked subject to change)

Haven
Hidden away at the top of the ship is The Haven by Norwegian, home to our most luxurious, well-appointed and spacious accommodations. Not only will you have access to all the ship has to offer, you'll enjoy the personal service of a concierge and 24-hour butler throughout your entire stay. On top of that, complete privacy and tranquility are just steps away on a sundeck reserved exclusively for guests of The Haven. From embarkation to debarkation, boarding of tenders to shore, onboard entertainment to dining times you will have priority. In your own ship within a ship, The Haven will make for a unique experience you'll never forget.
(there are many different rooms that provide access to the haven below is just one example at the lowest available price)
Haven Cat. HH Per Person for Double Occupancy $3184 (As Of 11/16/19 not locked subject to change)

Other Room Types are available upon request. (Mini-Suite, and Haven Deluxe Suites)
Follow this link to see all room categories with size capacity and basic info
*Norwegian reserves the right to re-instate a fuel supplement for all guests should the price of light sweet crude oil according to the NYMEX (New York Mercantile Exchange Index) increase above $65 per barrel.